Honestly, I must say it was a tour for such a short period of 2 days 1 night.
A tour for backpackers. Sounds pretty much awkward personally and being like a lavish consumer for local impressions offered only to tourists never came to my first intense.
But it turned out to be the best TOUR PLUS TRAVEL-ing trip of mine so far.
I have been obsessing with the idea of being an explorer instead of going from places to places just for pleasure. What I want is to immerse myself into the local culture, to dig deeply down inside what the people were born with, how they have become today. So that next time I come back then I would proudly say" Yes, I've really been here, been not just visited". And Miaoli that time did fulfill my desire, giving me the once- in- a- life- time experience of being "Alice in the Taiwanderland".
The series were written in the accordance with my own observation not chronicle orders.
PART 1 : EAT N' DRINK
PART 2 : FOLLOW THE LIGHT
PART 3 : THE PEOPLE
P1 : EAT N' DRINK
@VALAI Farmshop
Organic store x Local dining x Agricultural Tour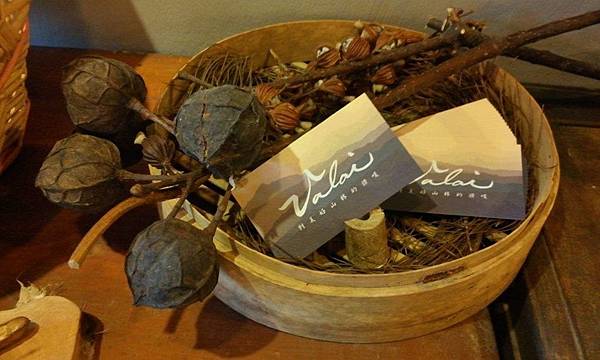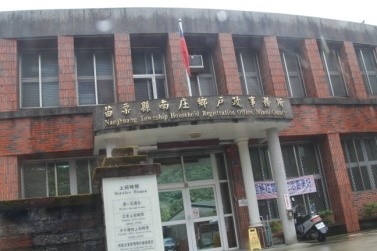 Located in Nanjhuang Old Street - a famous tourist spot in Miaoli, next to The Household Registration Office.
An unexpected rain guided us to VALAI - a 2-floor shop distinguishes from other Chinese traditional restaurants around. There was no catchy sign of Valai at the beginning until I stopped walking, started to look closer into the little stand that was completely made of bamboo and leaves.
This is the best part I like: You can not be rush looking for success, it takes time to grind.
With the vintage theme and raw materials as the main conception, VALAI brought me from one surprise to another. A loofah as the lamp, a tree branch as the hanger, bamboo as the partition, lots and lots features you have to discover by yourself,... Especially for photo lovers, every corner of Valai seemed to be a small studio.
The first floor was used to served as the main dinning space where I had my lunch with 5 other ones. For the second floor, it was more open as the balcony for customers to sit down and have a cup of afternoon tea when enjoying a great view of "The Golden Gate Bridge in Taiwan".
Particularly, each corner in Valai was organized for you, those photo lovers. All you need was randomly raise your camera around, push the button and you will get a good shot with no effort.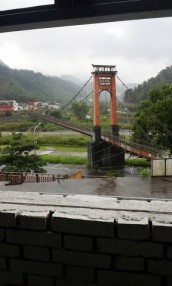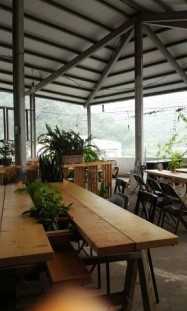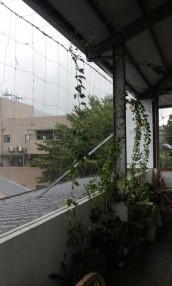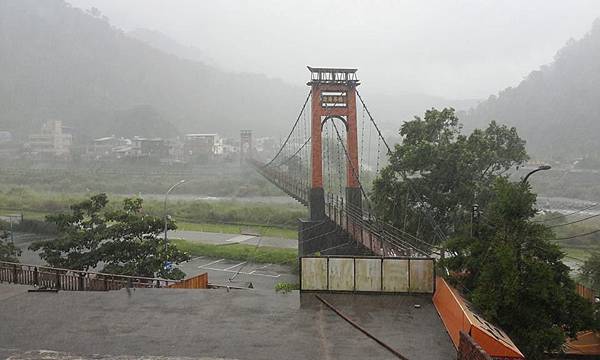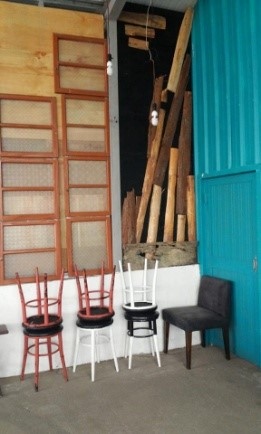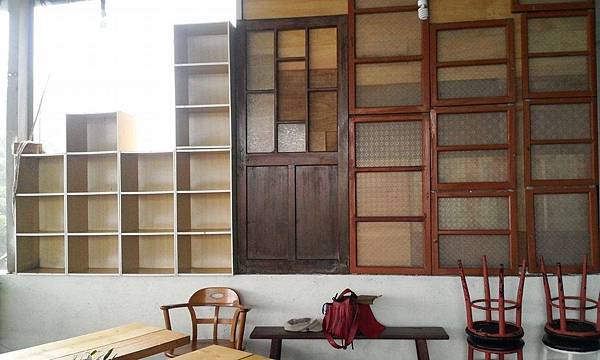 We did occupy almost half of the first floor, surrounded with a variety of well-presented organic products.
What I recommend most to bring back home:
1. Hand-pressed Tangerin Tea $350 per bag.
2. Formosa Oolong Tea $200 per bag.
Also, I was entertained with the aboriginal music as well, even I could not understand even a single word. However, it lift my mood up, gave me the most peaceful yet enthusiastic, slower yet faster at the same time. (Valai also sells some records in case you are interested)
Moving to the most exciting part : FOOD N DRINKS
Once you are in Valai, you have to try its authentic set menu served with local rice, meat, and 2-3 small dishes of veggies. Everything on your table was so fresh and juicy like being pick up right beside your seats.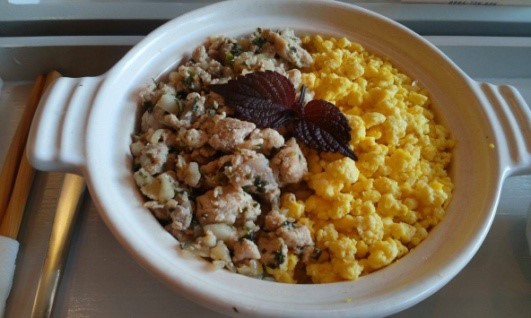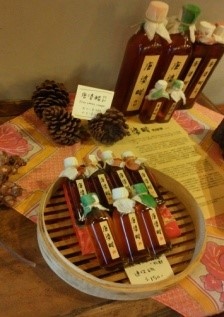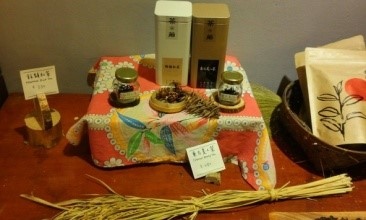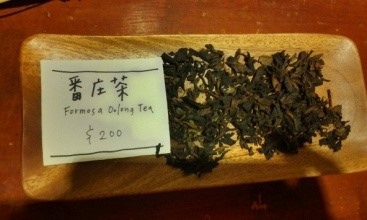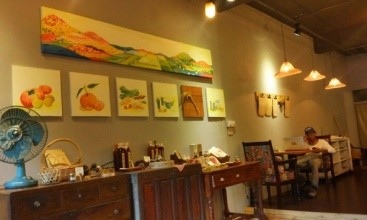 P2 : FOLLOW THE LIGHT
If you want to caught the most gorgeous view in Miaoli, one place that I would recommend is Laoliao - the unique hostel especially for backpackers. Finding the way to Laoliao was another story since its location seemed unlikely easy to be recognized. But if its effortless, the treasure was not worth finding. We arrived at Laoliao around 10 o'clock in the evening so that the only thing we could do was to follow the light as Laoliao was one of few houses being open at that time.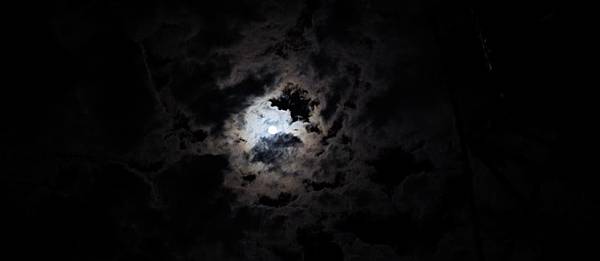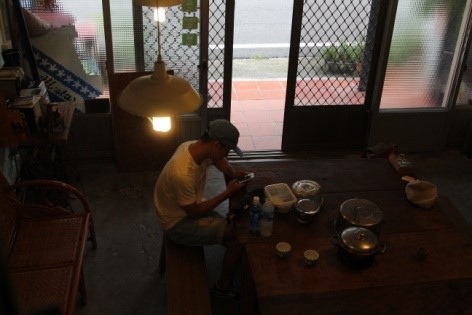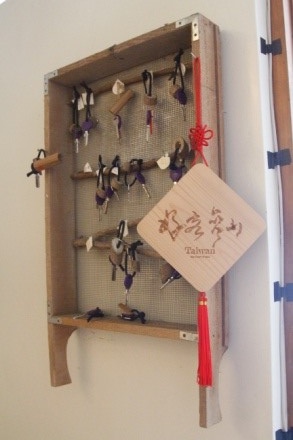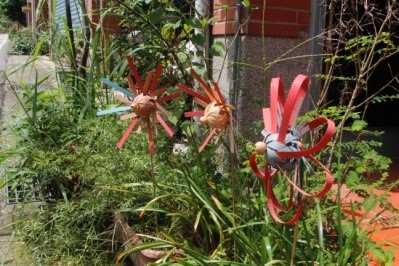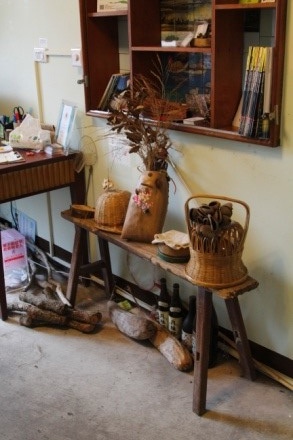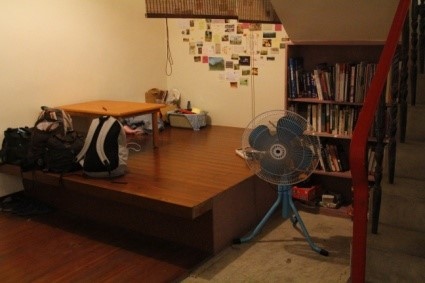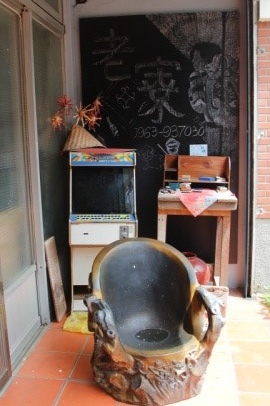 Every decoration inside Laoliao was inspired by vintage theme, made of the most natural materials like bamboo, raw wood, .... What I loved was that book corner with a wide range of novels, traveling journals, Taiwanese history and landscapes...both in English and Chinese. I enjoyed the fullest with my accommodation and got ready for tomorrow magical view.
5 A.M is the right timing for waking up and doing your personal hygienic stuffs before going outside. The moment I went through the backdoor right next to the bathroom, the moment I felt like I was entering "The one and only wonderland".
Just wanna shout it out loud "Morning, Miaoli" but somehow I managed to hold back and concentrated into the music from our Great mother nature : The voice of the stream flowing along till the very end of sky horizon.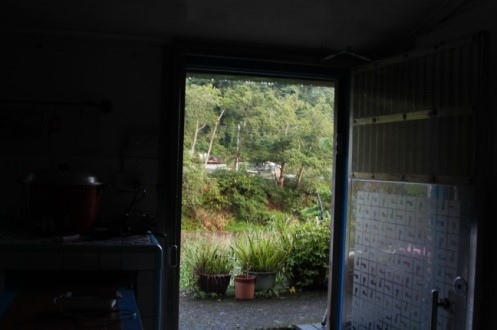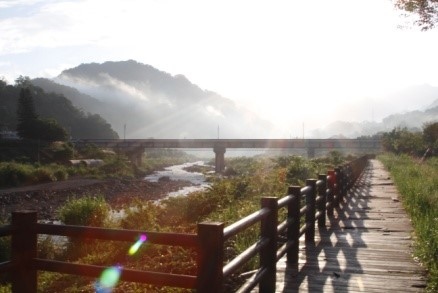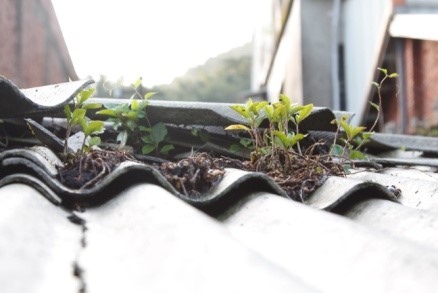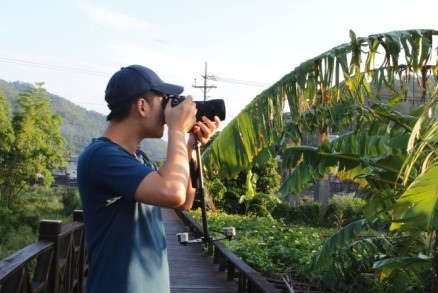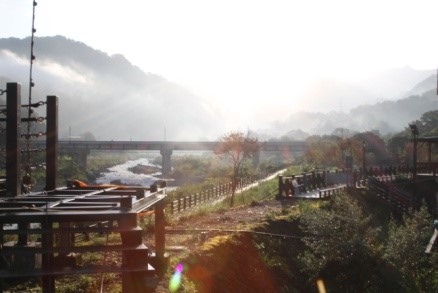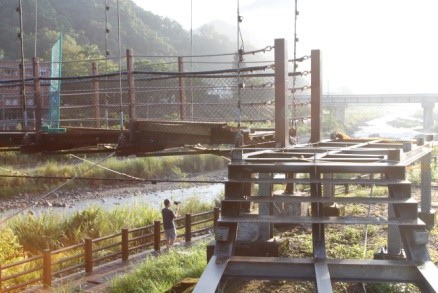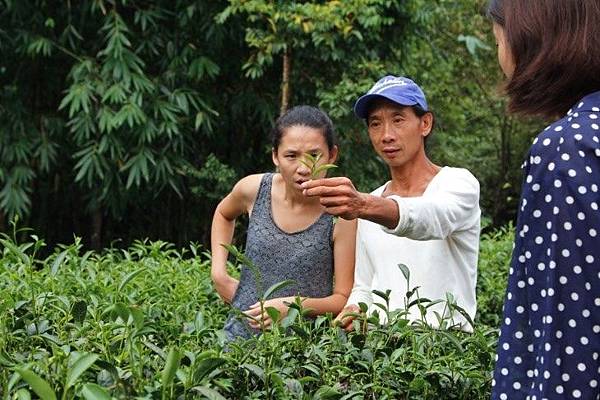 P3: THE PEOPLE
I was introduce to an inspiring tour guide, Chou Chou. The little Taipei- born young lady chose to settle down in Miaoli - in the countryside, which rarely happened to our generation since people stroke all their best to stick to urban areas.
Within this skinny, gentle appearance I saw a tough, energetic soul that fully dedicates to Miaoli, to the potential development of this land she observed. Miaoli then became the place where Chou Chou 's dreams could fly as high as possible. Her passion shines whenever she talks about her job as a Valai - Laoliao staff, shares her worries about the lack of local labor forces and most importantly, her desire about the brighter future of Miaoli sustainable agriculture.
Anyhow, Chou Chou did inspire her ideas to every single person staying around her.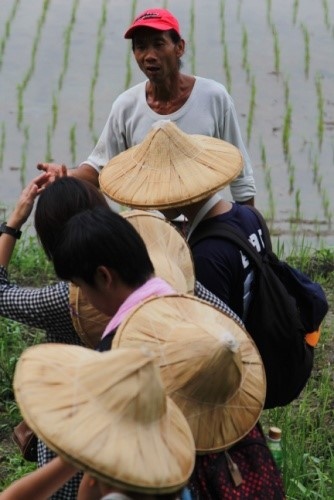 Another amazing one I met was Dui Zhiang - The Leader - who took the key role of creating magic to this land. He was a multi-task person, in charge of : fishing, driving us through ups and downs , teaching us how to plant taro, cooking with the secret recipes from his family, processing... anything related to agriculture was possibly considered as his jam. I kept wondering whether anything in life impossible for him to handle.
A gong and A ma
We were invited to spend a whole day in A Gong and A Ma - The grandparents' home, joining them with their daily routines. From drying tea leaves to making ShuiGan - a traditional cuisine of aboriginal areas, doing chores for me never seemed to be that exciting.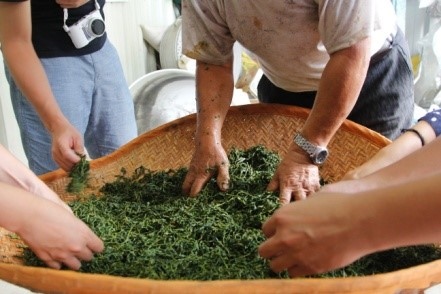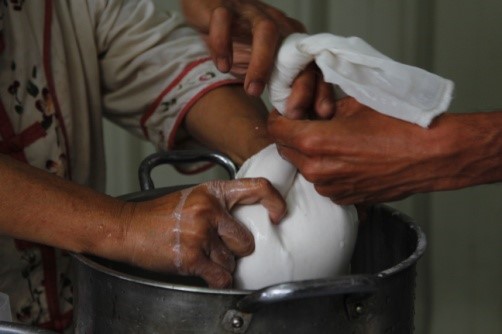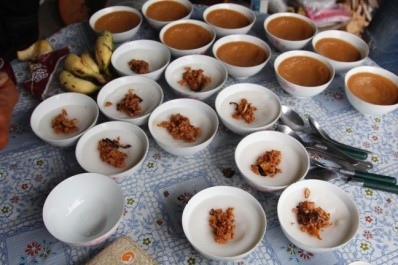 A Gong showed us around the best- of - the- universe " The Happy Garden" which was full of his effort and dedication.
A Ma kept feeding us with her endless food storage. Once I finished my bowl, there was always another waiting for me to eat. Supposed she were my grandma for real, I bet my weight would be 10 kilograms higher than I have right now. I was amazed of how nicely, enthusiastically they treated us - the visitors - just like members of the family living far away coming back home. That when I understood Miaoli always gave its warmest welcome to anyone who would like to draw in, who wanted to stay and commit themselves to this peaceful land.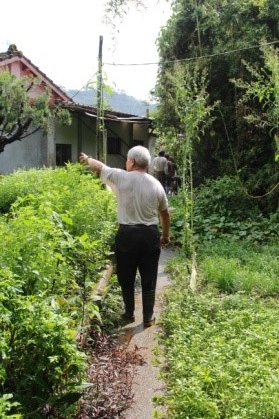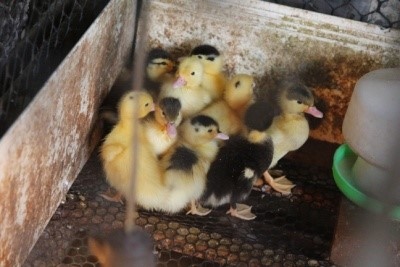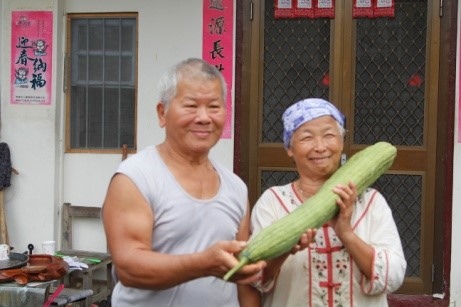 END.